Russian Wikipedia Shuts Down in Protest of 'Censorship' bill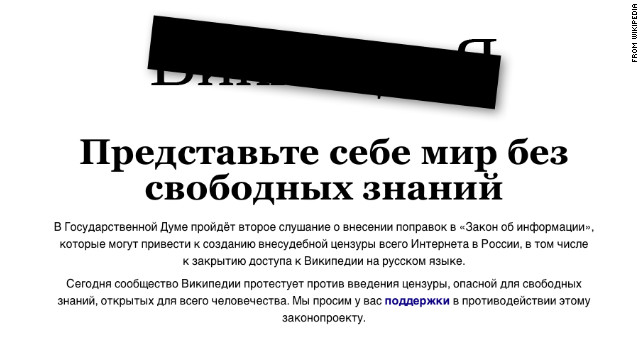 The Russian version of Wikipedia shut down Tuesday in protest of a "censorship" bill. The free encyclopedia on Tuesday temporarily shut down access to most of its Russian-language site in protest of proposed legal action in Russia that it says would result in Internet censorship. Visitors to ru.wikipedia.orgon Tuesday saw a black censorship bar over the Wikipedia logo and a message asking them to imagine a world without free access to knowledge. In January, Wikipedia shut down its English sites for 24 hours in protest of anti-piracy laws that were being discussed in the U.S. Congress.
DNS CHANGER MUST BE RESOLVED!
This is of the utmost importance right now and everyone must take the action of checking their computers to see if this Malware infection exists on any of their systems. THIS IS NOT A JOKE. It is with the strongest level of recommendation that I can possibly make to tell you all to do THIS:
Get yourself to http://www.dcwg.org./ where the organization brought in specifically to deal with this by the FBI will get you in the right condition. If it is indicated that you have this malware infection (RED SCREEN OUTPUT), it means that your system is not looking for Domain Name Servers correctly and it MUST be Resolved immediately. It may even be possible that you could see a GREEN output (if your ISP is redirecting DNS) and this Malware may still exist on your system(s). Therefore, it only makes for Best Practice to use one of the following tools to double-check and be certain that you are safe.
Kaspersky's TDSS Killer: http://support.kaspersky.com/faq/?qid=208283363
McAfee's STINGER: http://www.mcafee.com/us/downloads/free-tools/stinger.aspx
Microsoft's Safety Scanner: http://www.microsoft.com/security/scanner/en-us/default.aspx
There are other tools as well, all of which can remove this Malware (which was initially not even possible) and the http://www.dcwg.org./ website will get you the correct information. More can be found on the FBI's website devoted to extinguishing this: http://www.fbi.gov/news/stories/2011/november/malware_110911
As you see, this has been "in the wild" for some time and it may well have been unseen. Scan your system(s), make sure you are NOT one of the victims of this Malware assailant, and pass the word as Monday … time's up…
Malware may block thousands Monday (so check your PC)
DNS Changer Working Group
A screenshot of the DNSChanger scanning website, showing a clean bill of health. No software installation is required to run the scan, which can be found at dcwg.org. The warnings about the Internet problem have been splashed across Facebook and Google. Internet service providers have sent notices, and the FBI set up a special website. But tens of thousands of Americans may still lose their Internet service Monday unless they do a quick check of their computers for the DNSChanger malware that could have taken over their machines more than a year ago. Despite repeated alerts, the number of computers that probably are infected is more than 200,000 worldwide, down from over 300,000 in April. Of those still infected, the FBI believes that about 60,000 are in the United States. Users whose computers are still infected Monday will lose their ability to go online, and they will have to call their service providers for help deleting the malware and reconnecting to the Internet.
Facebook Now Lets You Edit Comments
We've all done it - posting accidentally and posting typos on Facebook, but as of Thursday you'll have the ability (finally) to edit any comments you post on Facebook.
Might come in handy!
Adobe Fixes Flash Player for Firefox to Stop Crashes
Adobe has just updated Flash Player to solve a weeks-long problem for users of Mozilla's Firefox browser. Update 11.3.300.262, was released Thursday and applies only to Firefox on Windows. Since Adobe updated to Flash Player to 11.3 two weeks ago, users of the newest Firefox as well as older versions had reported crashes when trying to access Flash content. Mozilla initially suspected the new flash player sandboxed plug-in for Firefox, but Adobe stated that there were different causes for the crashes were caused by Windows Vista and Windows 7 OS issues. Mozilla has the ability to disable extensions or plug-ins by adding them to the Firefox add-on blocklist. Firefox automatically queries the list and notify users before disabling the targeted add-ons. Through all the finger-pointing between Mozilla and Adobe, the crashes have been worked out but one never knows when future crashes may well occur.
More Articles ...